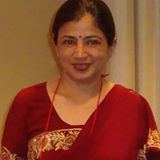 Jyotsna Sinha
Jyotsna Sinha has a dual post graduation degree in Psychology and English. She holds a Ph.D. in English. She has a teaching experience of more than 20 years at various levels. Her interest includes Postmodern English Literature; Communication Skills and Counseling . Three of her students have been granted PhD under her guidance.
She has presented papers and chaired many National and four International conferences at Osaka, Japan, Mauritius, Malaysia and Egypt .She was also invited as an expert at Fiji University, Fiji for expert Lectures on Communication Skills and to help them develop their Language Centre.
She is also Editing and involved in Publication of a Bi-annual English Journal named International Journal of Culture Literature and Criticism. She has coordinated Faculty and Management development Programs and workshops on different topics.